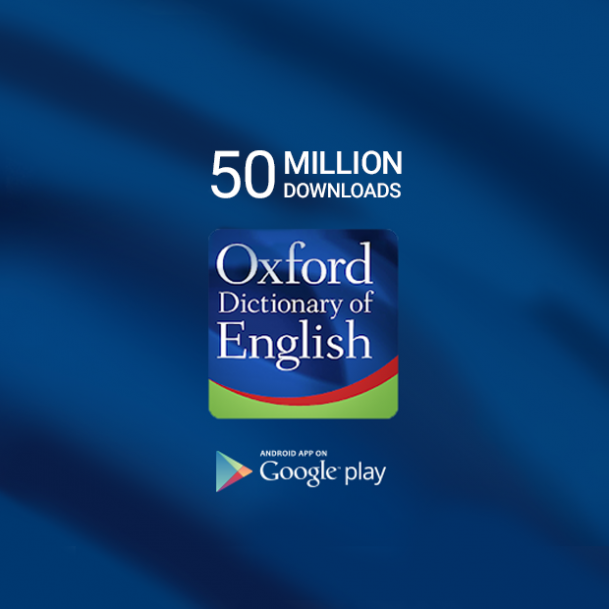 San Diego, CA: The Oxford Dictionary of English app for Android, based on the same original title by Oxford University Press hit the 50 million downloads milestone on the Play Store yesterday. The app already has similar success on Apple's App Store. Featuring the latest Oxford University Press' word database, with more than 350,000 definitions, the app also wins the users with advanced search and learning tools like: regionally specific entries, search themes, audio pronunciation, offline content, Word of the Day and more.
Oxford Dictionary of English is the third MobiSystems` app to hit the 50 million mark on the Play Store. Not so long ago, the company's flagships OfficeSuite and the file manager File Commander joined the 100 million downloads club. They placed MobiSystems among the few mobile developers with two or more products to have reached over 100 million users base.
The famous dictionary is a result of a long-standing relationship between MobiSystems and the Oxford University Press. MobiSystems is the official publisher of over 50 Oxford University Press academic monolingual and bilingual dictionaries, reference titles and language learning dictionaries for children.
The 15 years long history of cooperation between the two partners, has made the Oxford Dictionary of English and other reference titles available to mobile users, starting with the early PDA platforms, such as Palm OS and Pocket PC, all the way to the latest Android and iOS operating systems.
More recently, another two products of the company`s portfolio have had considerable success - the document scanning app Quick PDF Scanner and the book reader Media 365 hit the 5 million downloads mark on the Play Store, fast gaining popularity among users.
Availability