Account
When you create an account, you get:

5GB free cloud storage for any files on MobiDrive.
File Commander Premium (lifetime license) users get 15GB on MobiDrive.
File Commander Premium+ (subscription) users get 50GB on MobiDrive.
Your account helps synchronize your app settings and recent files between your devices and to transfer your license between platforms (Google <> Amazon <> Huawei).
Did you find this helpful?
3
2
You can easily add a new email address to your existing account, and still retain your cloud storage and account settings.

*Note that you will not be able to add an existing account as an alias. In case you had created an account with the new email, the workaround is to delete that account.

1. Tap Menu.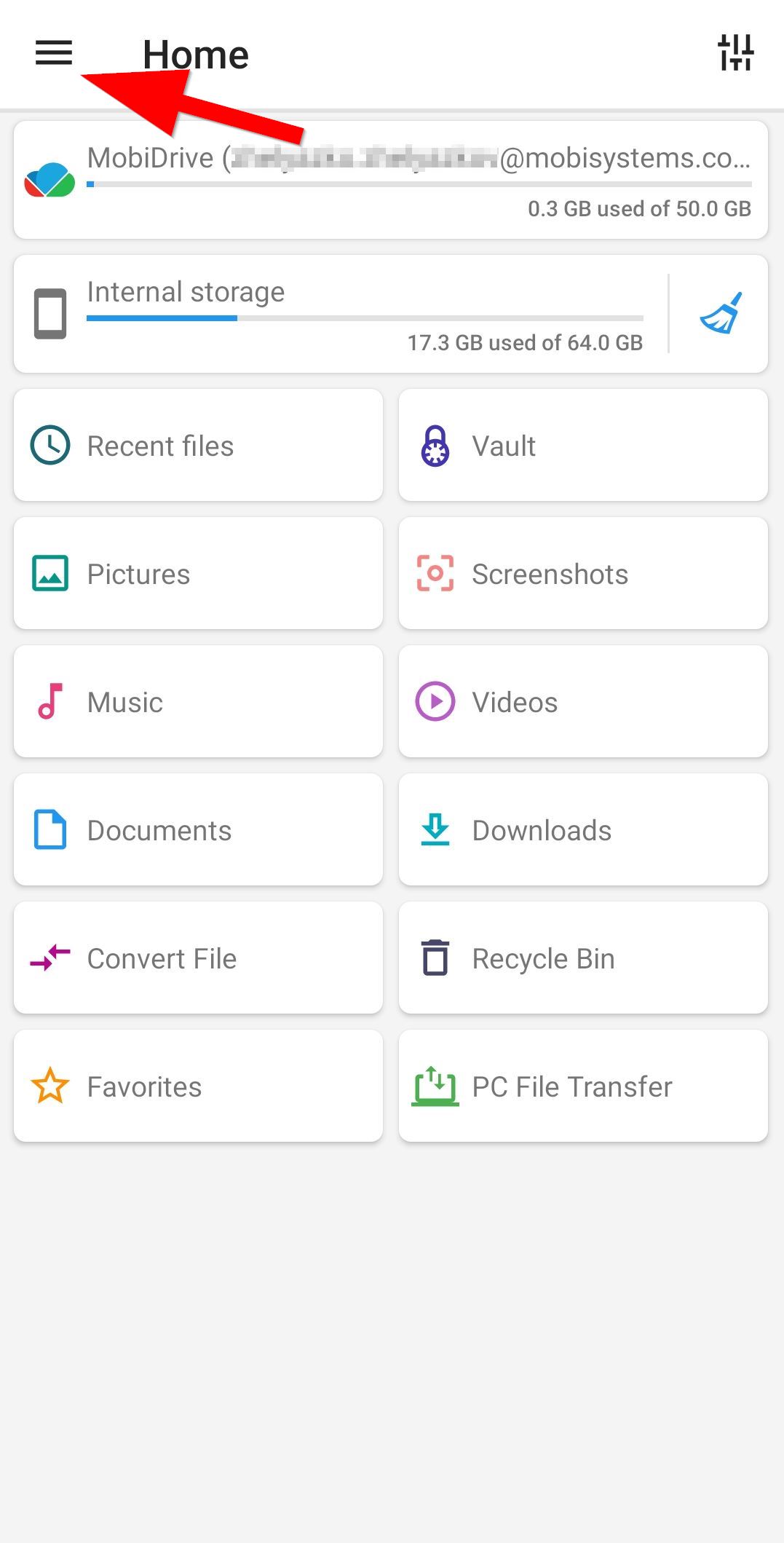 2. Tap your account/Manage account.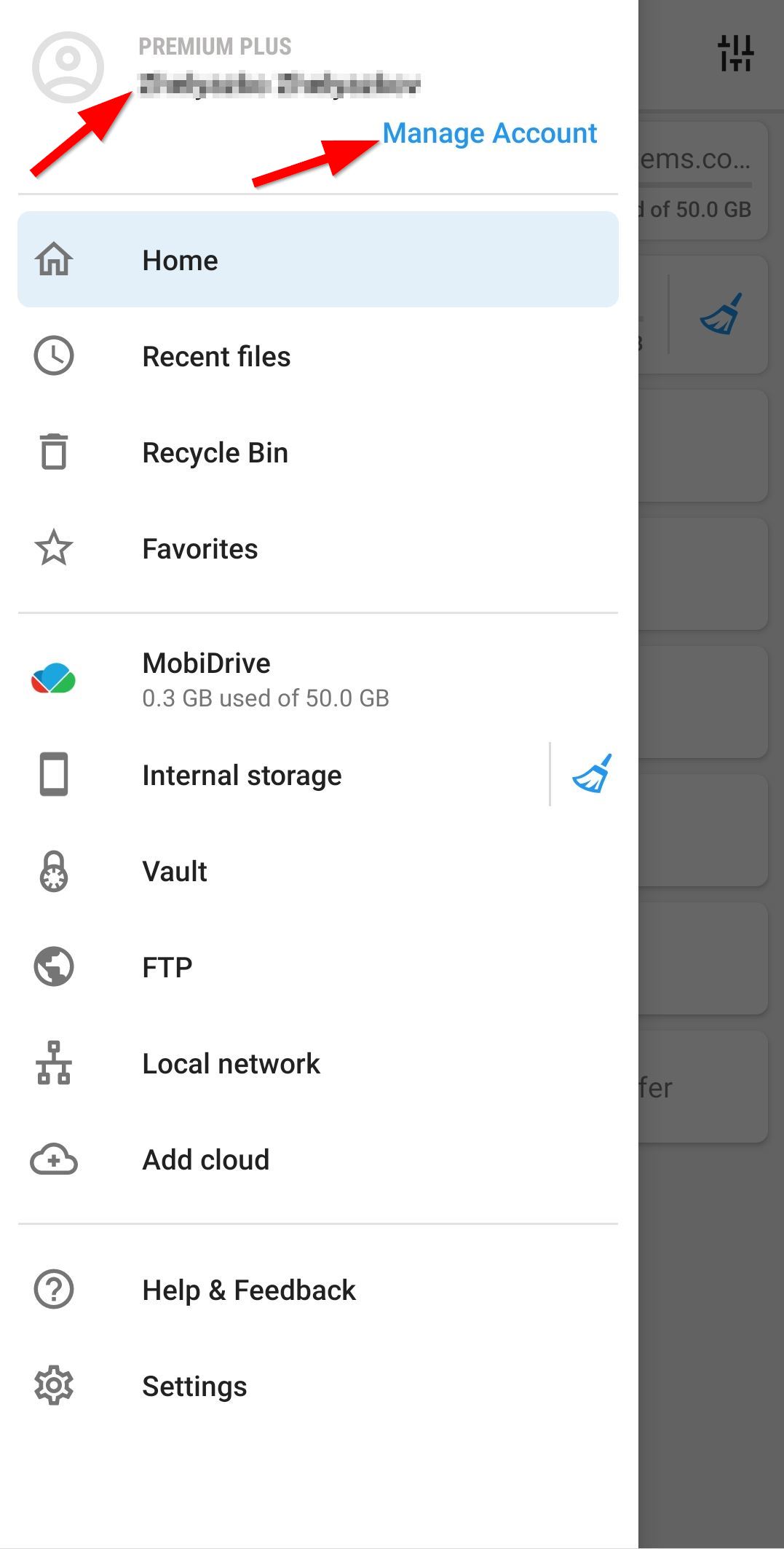 3. Tap Add email address.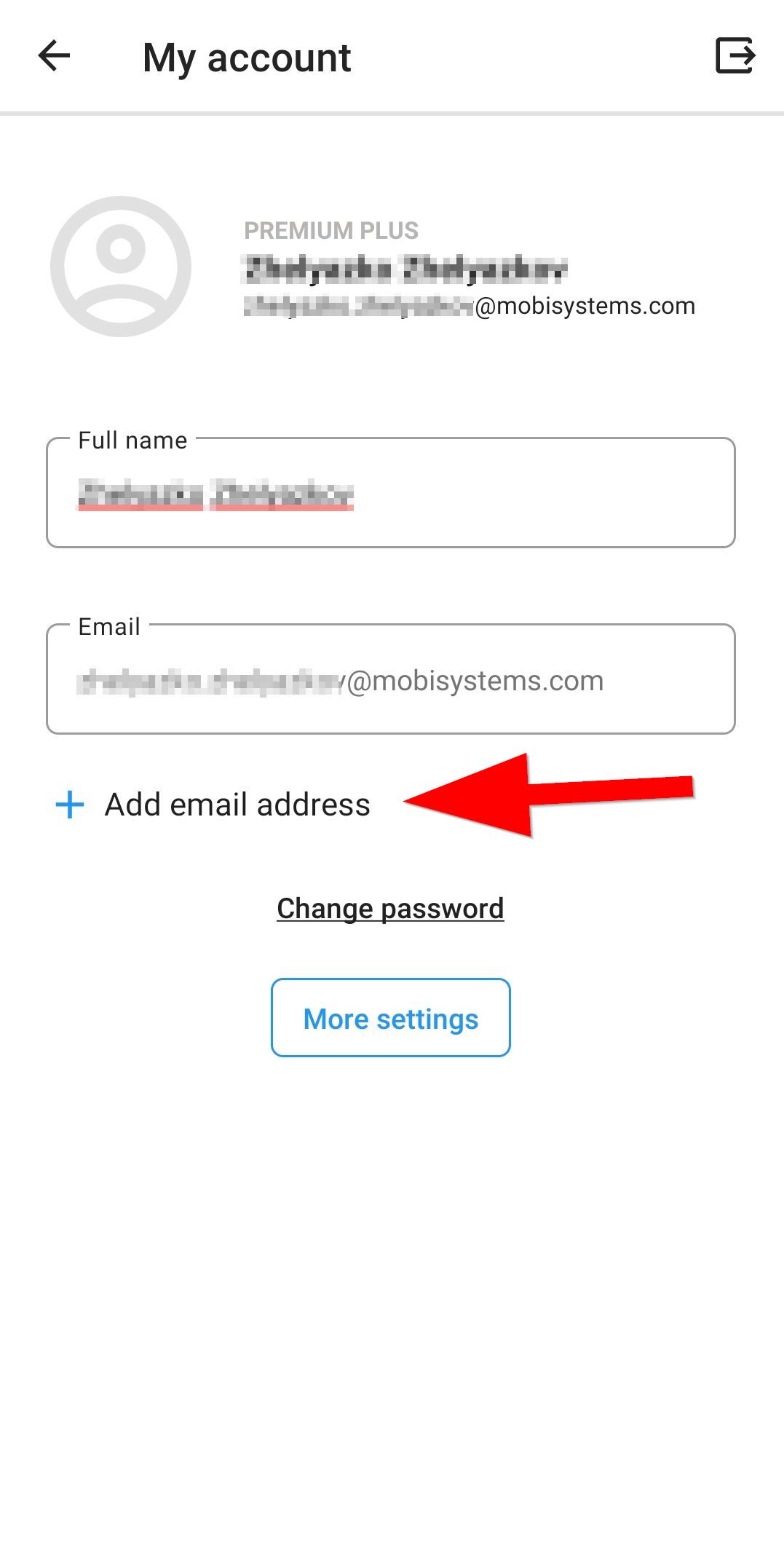 4. Type your new email and click Continue.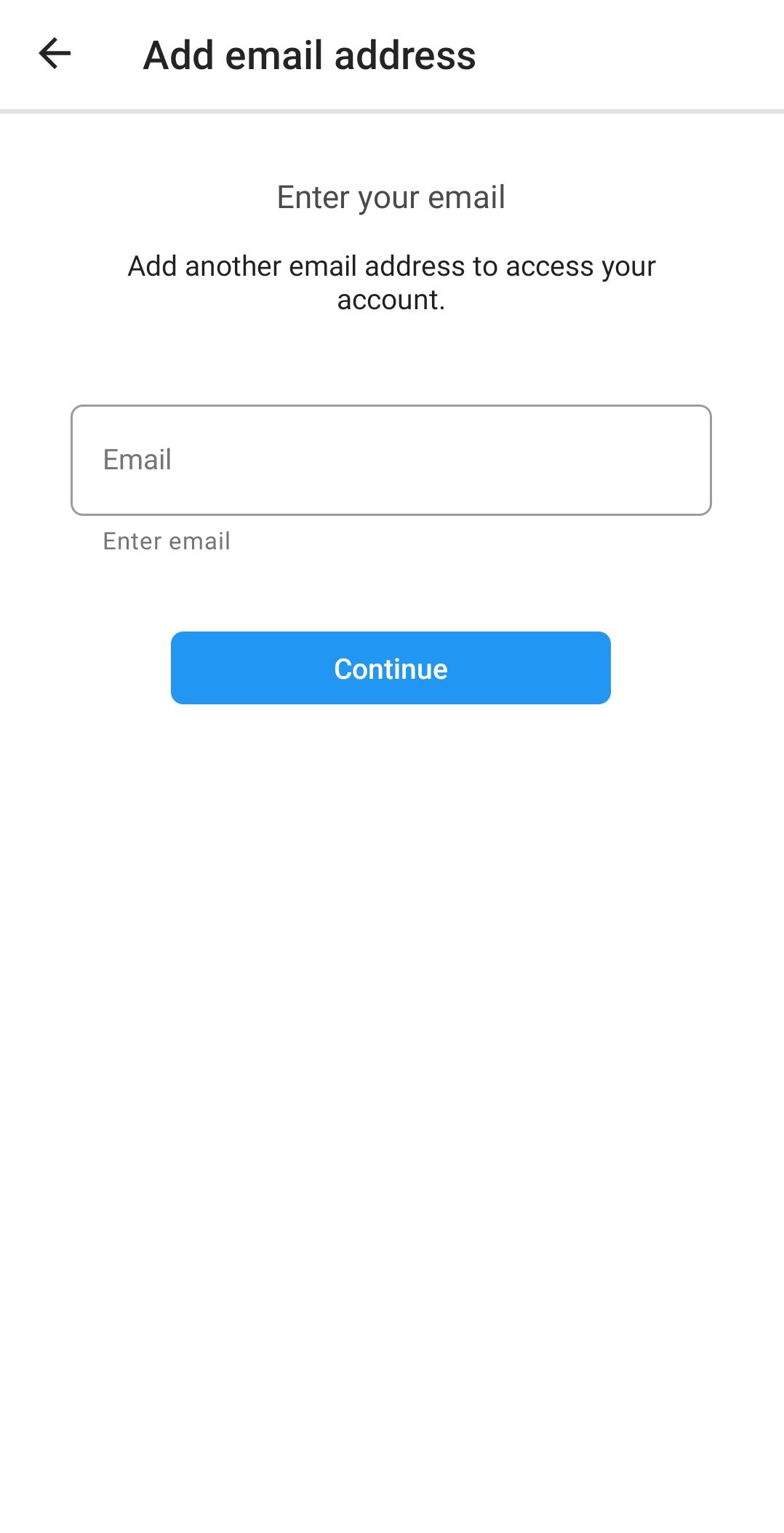 5. Verify the new email.



You can now use File Commander with either email.


Did you find this helpful?
2
2
You may want to change your password for security reasons, or you may have forgotten your password and you want to reset it.

Change password:

Open File Commander. Tap Menu, tap on your account.
Tap Change password.
Type your old password, then type the new one and confirm it.
Tap Change password.


Reset
password:
On the Sign-in window, tap 'Forgot password?'
Type your email, tap Reset password, tap Continue.
Check your email for the password reset link.
Follow the link in the password reset email to create a new password.
If you do not find the email, check spam. If you did not receive the email, contact us.
If you get '
Account does not exist
', you may have signed up with
Google
or
Facebook
Did you find this helpful?
When you sign up with Google or Facebook, your newly created MobiSystems account will adopt your Google email or the email on your Facebook account.

However, you can not sign in to your MobiSystems account with this email, because you did not set up a custom password. Instead, on the Sign in window,
choose the original sign-in method.
Did you find this helpful?
1
3
The automatic sign-in option for MobiSystems accounts allows you to use File Commander, OfficeSuite, and MobiDrive apps simultaneously without the need to sign in to each one.
If you are installing OfficeSuite for the first time, but you are signed in to one of the other MobiSystems apps on your device, logging in to OfficeSuite will be automatic.
If you sign in with a different account in one of the apps, the same account will be automatically used for the other apps on your device.
*Automatic sign-in option and MS system account provisioning will be available only after app upgrade (app versions File Commander 7.3 +, OfficeSuite 11.3 +, MobiDrive 1.2 +).
Did you find this helpful?
5
You would like to add your Google Drive, Dropbox, Box, OneDrive account(s) to File Commander.


1. Tap the Navigation drawer.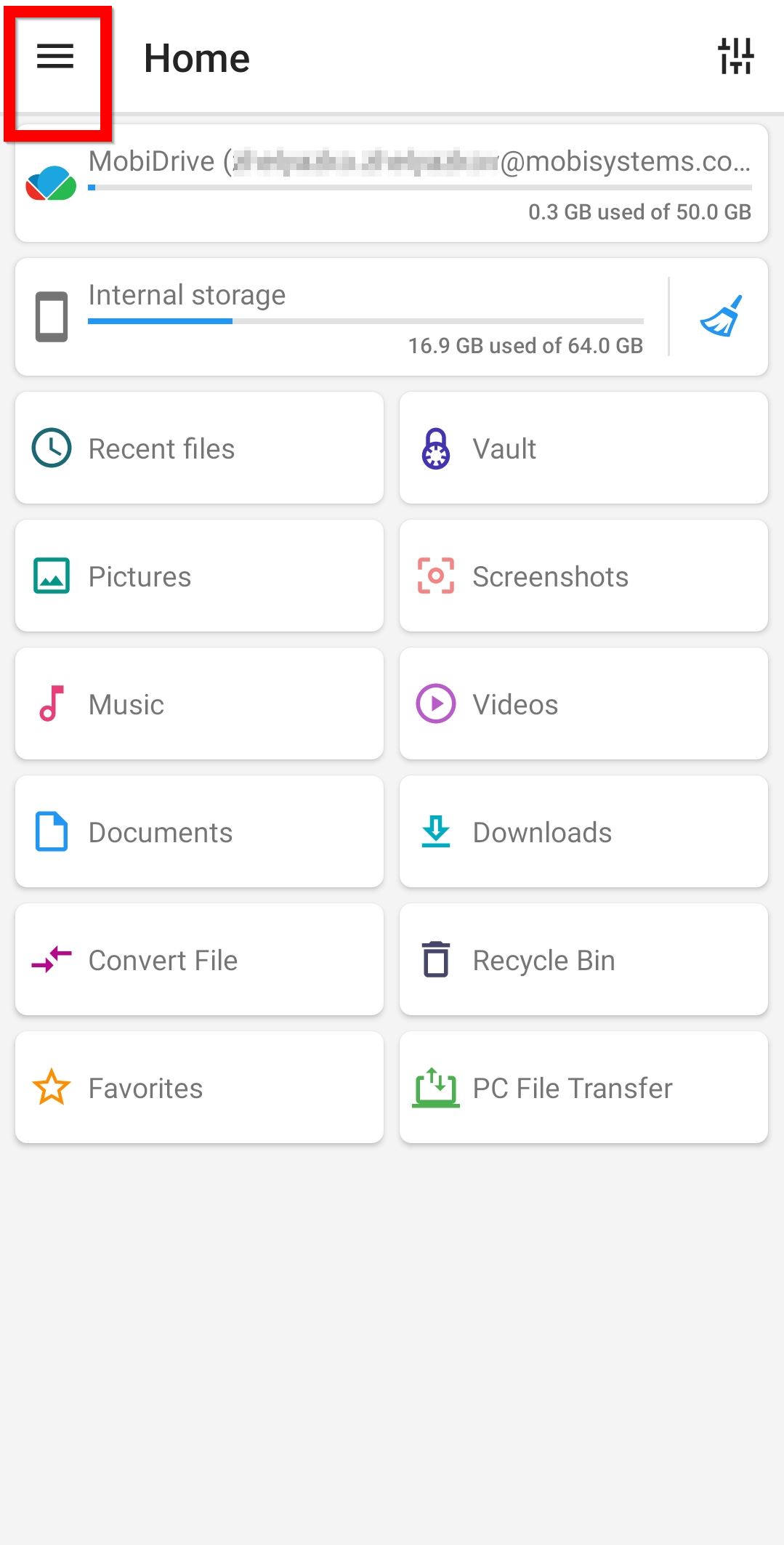 2. Tap 'Add cloud.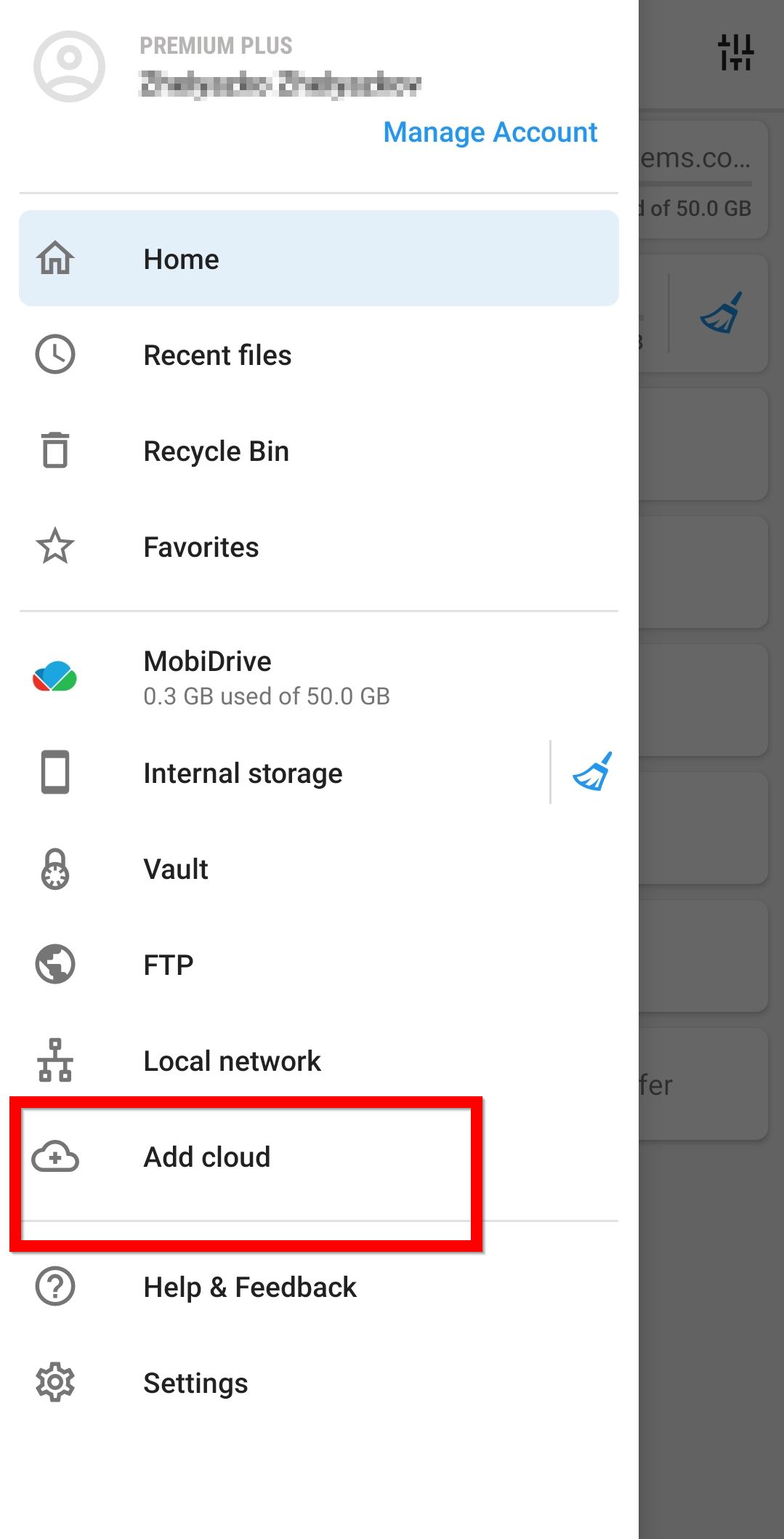 3. Tap the provider you have an account with.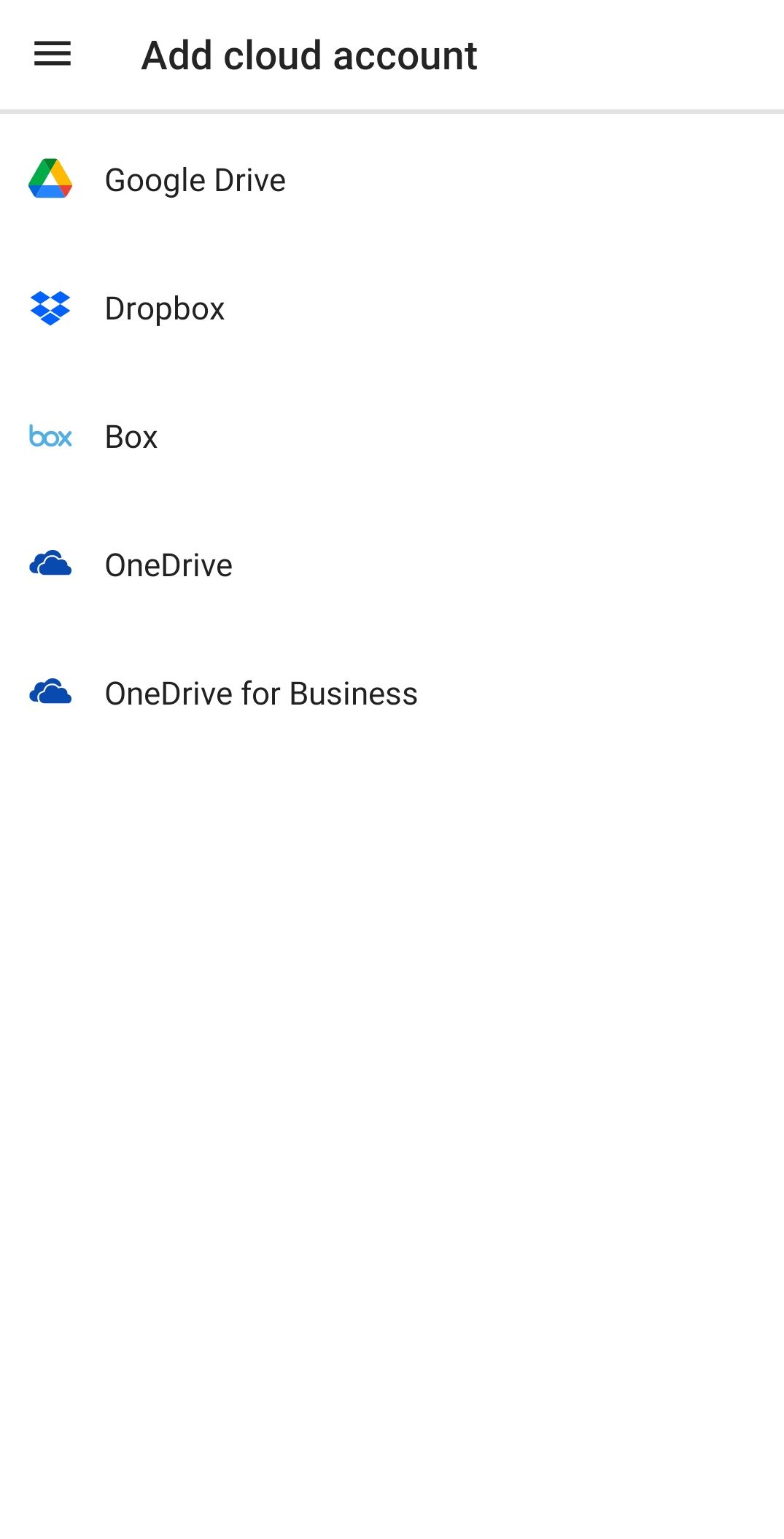 4. Enter the credentials you use with the third-party provider and confirm.

Your newly added cloud account will appear in the Navigation drawer and Home.

*Note that
· You can add more than one account per provider.

· Business and enterprise cloud services and 2-step verification accounts are not supported.

· We cannot guarantee the performance of other providers listed on the 'Add cloud' screen.

· Google Drive is not supported in File Commander for Amazon AppStore.
Did you find this helpful?
2
1