Account
Linking your OfficeSuite license with an account allows you to use your license and documents across devices and, if applible, across platforms.

You can sign up through OfficeSuite for mobile or Windows PC,
or on our website.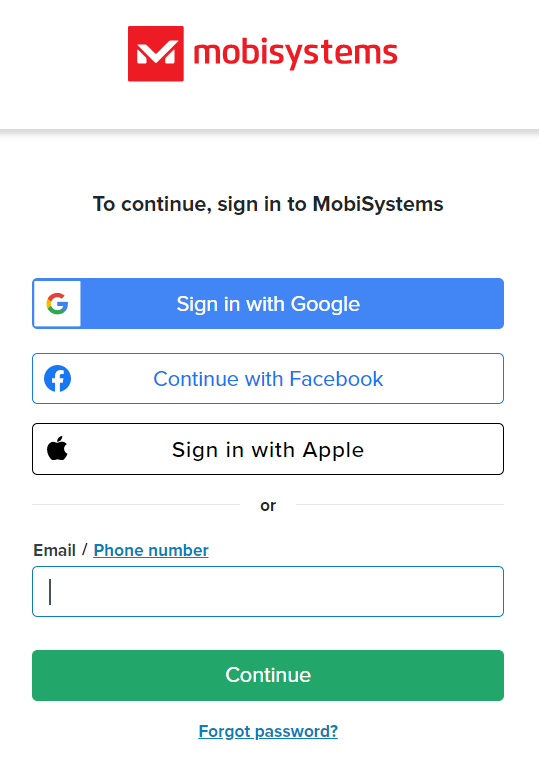 Sign in methods:
You can can create an account with your Facebook account, Google account, or Apple ID. It is a secure, quick, and easy way to sign up and you will not have to remember your individual OfficeSuite password.

Facebook.
Google.
Apple ID.
Alternatively, you can sign up with your
email address.
Email. Be sure to sign up with a valid email address that you have access to. This email address or phone number will be the username that you log in with.
Make sure to verify your account by following the link in the confirmation email we send.
Add a new e-mail to my account.
When your old email address or phone number does not suit you anymore, but you want to retain your cloud storage, account settings, and OfficeSuite Chats contacts (Android only), you can add a new email address to your existing account.

An alias is another email address that works with the same account.

Note that you will not be able to add an existing account as an alias. In case you had created an account with the new email, the workaround is to delete that account.

The steps to add an email vary between platforms.
On your Windows PC:
Open any OfficeSuite module. Click File in the top left.
Click Manage account.
Click Edit account.
Click Add email and Verify your new email.
Alternatively, sign in to your MobiSystems account in web.
Change password:

Open OfficeSuite. Click your account in the top right, or
click File in the top left, click Account.
Click Change password.
Note that Change password is not visible or possible when signed in with Google, Facebook, or Apple ID.
Type your old password, then type the new one and confirm it.
Reset
password:
On the Sign-in window, tap 'Forgot password?'
Type your email, tap Reset password, tap Continue.
Check your email for the password reset instructions and link.
Follow the link in the password reset email.
Enter your new password.
Note that your password reset code is not a temporary password you can use to sign in. Follow the link in the email to reset your password.
If you do not find the email, check spam.
You want to delete your MobiSystems account.
Deleting your MobiSystems account means you will not be able to use it to sign in to the MobiSystems apps you have been using. It also deletes your MobiDrive and files. This can not be undone.

Deleting your MobiSystems account will not cancel your trial or your subscription with a third-party seller. You must cancel your subscription to end your subscription with a third-party seller.

To delete your account:
1. Sign in to your account
2. Tap Edit account
3. Tap Delete