View PDF
PDF Extra provides you the flexibility to rotate the view of PDF documents to different angles.

Rotation is based on 90-degree increments. To apply the page rotation on the selected page or pages,

On the View tab,
Select Rotate view, select
Clockwise. Rotates the document clockwise. Alternatively, press CTRL+SHIFT++
Counterclockwise. Rotates the document counterclockwise. Alternatively, press CTRL+SHIFT+-
Note that this is a
View
property
, not an Edit one.
The page rotation is not permanent. To permanently rotate a page or pages,
click here
.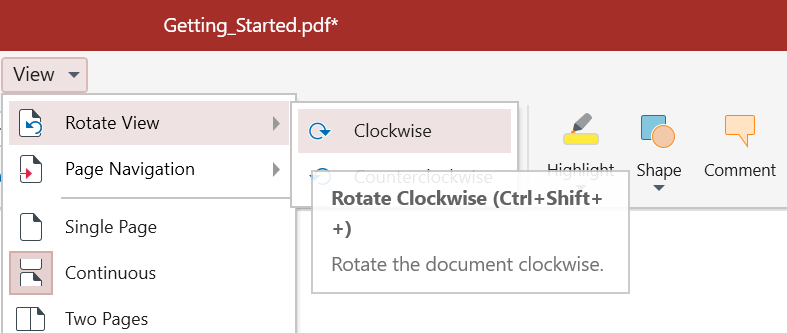 Search a PDF for a word or a phrase

1. Press CTRL+F, or in the Edit tab, select Find.

2. Type the word or phrase to search. Optionally, tap the search filter criteria icon:

Case-sensitive. Finds only occurrences of the words that match the capitalization you type.
Whole words only. Finds only occurrences of the complete word you type in the text box.
3. The search results are highlighted. To navigate, click Enter, or click the Find Previous or Find Next buttons.
Depending on the PDF you open, you have to move forward through multiple pages, see different parts of the page, or change the magnification. There are many ways to navigate, but the following are commonly used:

Page Navigation
Next and Last. Select View, select Page Navigation.


The Next Page and Last Page buttons appear in the Page Navigation toolbar. Click on either of the two options to go to a particular Page.
Page layout. Select any of the following:
Single Page.

Displays one page at a time, with no portion on other pages visible.
Continuous.

Displays pages in a continuous vertical column that is one page wide.
Two Pages.

Displays each two-page spread with no portion of other pages visible.
Two Pages Continuous.

Displays facing pages side by side in a continuous vertical column.
Use bookmarks to mark a place in the PDF to which you want to return, or to jump to a destination in the PDF, or a web page.

Review bookmarks

Open a PDF file. In the View tab,
Select Content. The bookmarks show in the Contents pane on the left.
Manage bookmarks - add, rename, delete - in PDF Extra.