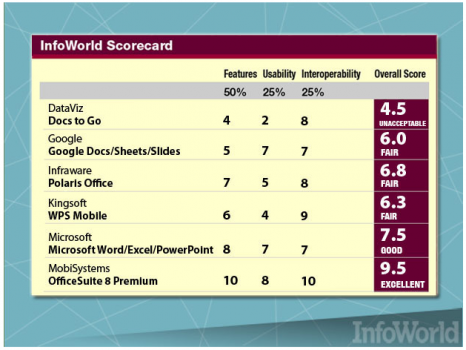 In their recent review of productivity suites for mobiles, popular information website infoworld.com listed OfficeSuite 8 as the best office suite for Android. Against competing products from the likes of Google and Microsoft, OfficeSuite was able to come out on top thanks to its superior features and scored a solid 9.5 out of 10!
"The results are clear: OfficeSuite 8 is by far the best overall office suite on Android today. From its excellent UI to its commendable feature set, the app is in a league of its own."
OfficeSuite is proud to be listed as the Best Office Suite on Infoworld.com. Be sure to check out the full article here, and grab your own copy of OfficeSuite 8 from MobiSystems.
About MobiSystems: MobiSystems has been an industry-leading developer of business and productivity applications for mobile devices since 1997. MobiSystems products are found in devices from top manufacturers like Sony, Amazon, Sharp, Alcatel, Toshiba, Acer, and more. As the developer of the award winning mobile app OfficeSuite, MobiSystems serves over 200 million individual and enterprise users in 205 countries