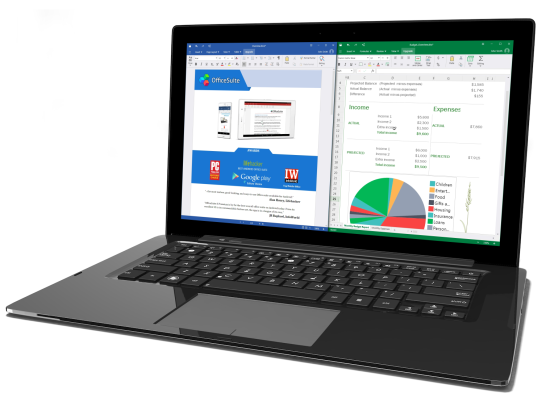 SAN DIEGO, November 2016 – MobiSystems is proud to announce its first ever OfficeSuite version for Windows PC!

Bringing the award-winning performance and features that make OfficeSuite for Android the #1 business app on Google Play, OfficeSuite for Windows lets you take your productivity to the next level. Besides the full-featured editing modules for documents, presentations, and spreadsheets, OfficeSuite for Windows PC includes a capable PDF viewer with advanced security, annotation, and conversion features.

Best of all, your current OfficeSuite Premium license will work automatically with OfficeSuite for Windows, giving you three robust products - OfficeSuite for Windows, OfficeSuite for Android, and OfficeSuite for iOS - in one complete package!

Coupled with full cloud support and extensive print and export features, OfficeSuite brings unparalleled features to desktop PC's and mobile devices.


To get OfficeSuite for Windows now, go here!
For more information on OfficeSuite, including MDM and Mobile Workspace solutions that can help your business, contact
bizdev@mobisystems.com
.
About MobiSystems
MobiSystems, founded in 2001 and entirely privately held, has been a leading provider of mobile productivity and business apps for over 10 years. As the developer of the award winning mobile app OfficeSuite, MobiSystems serves over 300 million individual and enterprise users in 205 countries. OfficeSuite is the Google Play Editor's Choice, and the top app in the business category with over 750,000 reviews. It is also PC Magazine's Editor's Choice, InfoWorld's Best Office App for Android, and LifeHacker's Best Android Office Suite.