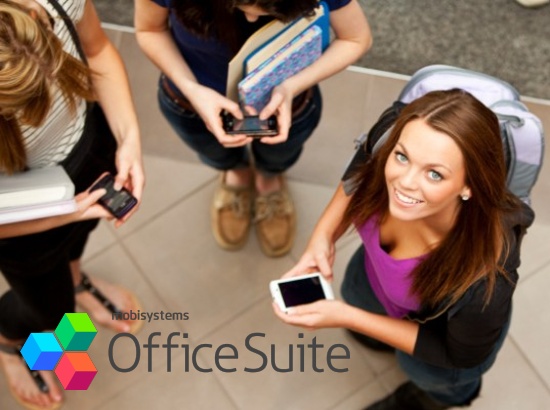 SAN DIEGO, November 2016 - OfficeSuite has been thoroughly reviewed by iOS Etc., a leading online platform that is all about iOS devices and applications.
See what Jeremy McGinty, an iOS expert who's written over 350 articles relating to Apple and their products over the past two years, shares about his experience using OfficeSuite and how the application is useful for students.
"The fall semester is nearly over, did your iOS device help you get some of your homework or group projects done? OfficeSuite by MobiSystems wants to make your life a little bit easier next semester if you said no. OfficeSuite has one of the most familiar desktop-inspired user interfaces I've ever experience when it comes to word processing. It's also very inexpensive when you compare it to other heavy hitters in the productivity arena. Best of all, it's more than just an office app.
One thing is for sure, you won't compromise while using OfficeSuite. This robust software has amazing power and capability and lets you use your iPhone or iPad to complete projects. Import documents created by other word processing software and keep editing right in OfficeSuite. This means you can start a project in Microsoft Word and import it into OfficeSuite and continue working. Documents can then be saved and opened in Microsoft Word, Office 365, Pages, and many other applications."
Read the whole app review here.
About iOS Etc.:
iOS Etc. is all about iOS devices, constantly looking for the next big thing in the App Store or trying to expose you to the best tips and tricks for your iPhone, iPad, or iPod touch. Working with independent developers and companies, the popular website shows you amazing apps and accessories for your devices.
About MobiSystems:
MobiSystems, founded in 2001 and entirely privately held, has been a leading provider of mobile productivity and business apps for over 10 years. As the developer of the award winning mobile app OfficeSuite, MobiSystems serves over 300 million individual and enterprise users in 205 countries. It is a Google Play Editor's Choice, and the top app in the business category with over 750,000 reviews. OfficeSuite is also PC Magazine's Editor's Choice, InfoWorld's Best Office App for Android, and Lifehacker's Best Android Office Suite.