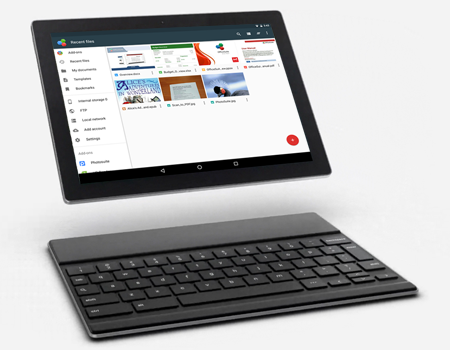 SAN DIEGO, December 2015 – MobiSystems is proud to announce that its continued partnership with Google has led to OfficeSuite included in the Pixel C tablet's promo app pack.
The Pixel C blends a full-sized keyboard with the portability of a tablet, making it the perfect tool to take advantage of OfficeSuite's complete range of editing features. By blending physical keyboard controls with Android's touch interface, Google has further blurred the lines between tablets and conventional PCs.
With its robust range of onscreen touch features and keyboard shortcuts, OfficeSuite is the only app that can completely replace desktop office editors. Combined with advanced editing, cloud support, and an integrated file manager, OfficeSuite on the Pixel C delivers complete freedom when it comes to mobile productivity.
Availability: Look for OfficeSuite on the Google Pixel C, as well as on Google Play and major Android app stores.
About MobiSystems: MobiSystems has been an industry-leading developer of business and productivity applications for mobile devices since 1997. MobiSystems products are found in devices from top manufacturers like Sony, Amazon, Sharp, Alcatel, Toshiba, Acer, and more. As the developer of the award winning mobile app OfficeSuite, MobiSystems serves over 200 million individual and enterprise users in 205 countries.