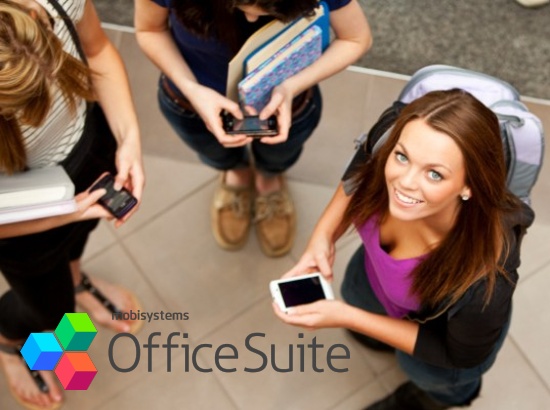 San Diego, CA: MobiSystems Inc. released a major update of the flagship product – OfficeSuite with significant feature additions and upgrades. Version 9.1 introduces OfficeSuite Drive cloud storage and integrated spell checking for Spreadsheets and Presentations, along with added support for iWork files.
As part of MobiSystems' ongoing efforts to always improve and better our award-winning product, OfficeSuite Drive's free 15GB of cloud storage allows for an easy access to important documents. All other major cloud services are also supported and allow the user flexibility, reliability and seamless access to remotely stored content.
The addition of spell-checking for Spreadsheets and Presentations, as well as the ability to add/delete individual cells, brings added value to users who look for a desktop-inspired mobile office solution. They also enhance the seamless experience of creating and editing complex and sophisticated spreadsheets and presentation on your mobile device.
The newly implemented support for iWork files, furthers the range of compatible file types which users can work with, which include Microsoft formats, Open Office[i] and other common file formats such as RTF, TXT, LOG, CSV, ZIP and EML.
Based on user feedback as well as MobiSystems' goal of bringing excellence to the business productivity application marketplace, version 9.1's integration of the above major additions to the functionality of the product is going to further solidify OfficeSuite as the market-leader in mobile office solutions.
What's New list of added features is:
OfficeSuite Drive's free 15GB of cloud storage
Home Screen shortcuts
Apple iWork files support
Advanced image search option
Integration of spell checkers in Spreadsheets and Presentations
Ability to add or delete individual cells has been added to Spreadsheets
Enabling the addition of shortcuts to the Home Screen is another example of OfficeSuite being designed around the user experience - allowing for maximum comfort and ease of access to the most frequently used files and folders.
About OfficeSuite
OfficeSuite lets you easily view, edit, and create Word, Excel, and PowerPoint documents, and perform advanced PDF operations. Complete with our integrated file manager, it is the most feature-rich mobile office solution available on Android as attested by the awards we have received:
GOOGLE PLAY EDITORS' CHOICE
INFOWORLD'S TOP MOBILE OFFICE
LIFEHACKER'S BEST ANDROID OFFICE APP
PCMAG EDITORS' CHOICE AWARD
Preloaded by top manufacturers including Sony, Amazon, Sharp, Acer, Alcatel, Kyocera, Toshiba and more, OfficeSuite is the most downloaded office app on Google Play and delivers the most exclusive features over any other mobile office solution.

About MobiSystems
As one of the leaders in the office application and business productivity marketplace, with over 300 million lifetime installs across 195 countries, MobiSystems has been producing professional, top-level products since 2001. Along with OfficeSuite, the company also develops other industry-leading product such as File Commander File Manager, Universal Book Reader and AquaMail to name a few.
For information on OfficeSuite and the new features of version 9.1, please visit: http://www.officesuitenow.com or the product page in the Google Play Store.
Company information as well as MobiSystems' own Store can be found on: http://www.mobisystems.com
=====
[i] Available as add-on purchase