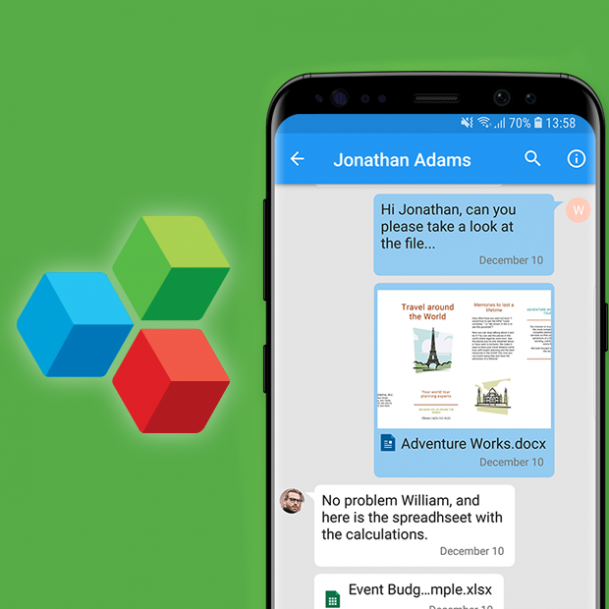 San Diego, CA: MobiSystems Inc. released a major update of its flagship product – OfficeSuite with significant feature additions and upgrades. Version 9.2 introduces OfficeSuite Chats which allows chats and document exchange between friends and colleagues.
As part of MobiSystems' ongoing efforts to always improve and better its award-winning product, OfficeSuite Chats provides users with the ability to communicate, collaborate and exchange documents amongst them. This feature introduces the ability to chat on the go with friends and colleagues and send documents back and forth between users of the program, providing enhanced productivity and collaboration.
The new Chats feature will be especially beneficial to business users. Allowing easy file sharing and communication about important issues with colleagues, brings a new level of sophistication and efficiency to the full-range of document editing features, already present in OfficeSuite.
Another major improvement is OfficeSuite Drive's cloud storage performance and synchronization of recent files with our OfficeSuite for Windows product. Users also receive 15GB of cloud storage on OfficeSuite Drive for free, which allows for an easy access to important documents across all your devices for a true cross-platform experience.
About OfficeSuite
Since 2011 OfficeSuite has been one of the leaders in the office productivity category. Preloaded by top manufacturers including Sony, Amazon, Sharp, Acer, Alcatel, Kyocera, Toshiba and more, OfficeSuite is the most downloaded office app on Google Play. It delivers the most exclusive features over any other mobile office solution for viewing, editing and creating Word, Excel, and PowerPoint documents, and performing advanced PDF operations.
OfficeSuite is available as a true cross-platform product, allowing Personal Subscription users to work effortlessly across devices on iOS, Android and Windows.

About MobiSystems
As one of the leaders in the office application and business productivity marketplace, with over 300 million lifetime installs across 195 countries, MobiSystems has been producing professional, top-level products since 2001. Along with OfficeSuite, the company also develops other industry-leading product such as File Commander File Manager, Universal Book Reader and AquaMail to name a few.
Availability
For information on OfficeSuite and the new features of version 9.2, please visit: http://www.officesuitenow.com or the product page in the Google Play Store.
Company information as well as MobiSystems' own Store can be found on: http://www.mobisystems.com