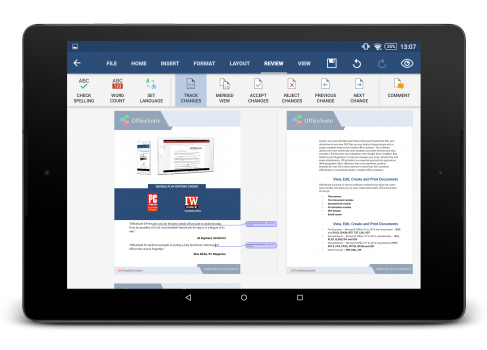 SAN DIEGO, April 2015 – The latest OfficeSuite 8.2 update has been released today, complete with a boatload of enhancements and security features designed built to take advantage of the latest Android 5.1 Lollipop version.
As Android's most downloaded office app, OfficeSuite 8.2 continues to solidify its position as an industry leader by including a new overhauled user interface, updated file manager with FTP server access, ability to cast presentations across multiple devices, interactive PDF form support, and the ability to password protect individual Excel cells and sheets.
You'll also be able to add a digital signature in just a few taps with the new Quick Sign feature and easily certify PDF documents.
OfficeSuite 8.2 is available now on Google Play and across all major Android marketplaces.
About MobiSystems
MobiSystems has been an industry-leading developer of business and productivity applications for mobile devices since 1997. MobiSystems products are found in devices from top manufacturers like Sony, Amazon, Sharp, Alcatel, Toshiba, Acer, and more. Through ground-breaking software design and innovation, MobiSystems serves over 200 million users across 205 countries.